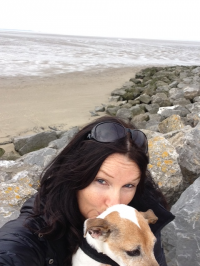 Carla Day
I'm a passionate creative writer who had the great opportunity of studying with The Writers Bureau in 2003. I enjoy playing with words, tossing them around with my very fruitful imagination, and forming something refreshingly new. I've been creating stories as long as I can remember. I usually write across genres; finding it almost impossible to stick to just one. I like to mix things up and see how it all develops.
I've worked as an Editor for community magazines, where I was responsible for sourcing on-trend articles to attract reader attention, as well as overseeing the magazine's production. I've also written feature articles for various publications including Miss to Mrs Magazine, Your Local Community Magazines, The Kirby Comment The Athens News and The Cambrian News.
I've completed three novels of different genres - a magic realism mystery thriller - The Bench - which is going through a re-write. A children's fantasy - Amberliah and the Golden Rose, and a memoir - The Other Me.
My short story was recently published in Scribble magazine in the Spring issue of 2016. The entry 'Watering the Daisies' claimed third prize voted by the readers and I was delighted to receive a cheque for £15.
I continue to add to my collection of short stories, flash fiction and poetry. That's what I do, it's my hobby.
This is who I am:
I am a lemon enthusiast, loving all things citrus, cake, sweets, tea, Bon Bons and gin and tonic with a slice! I have a fascination with viewing benches and the conversations held on them. I like to be on top of a mountain drinking coffee from a flask. I watch Saturday football, when my son plays. I LOVE Maltesers, forget flowers, if you are trying to butter me up, do it with Maltesers! My walking boots are always muddy!
I like to be in bed with a book and to sink into someone else's world. I rarely watch TV, unless there is a good film on of course! Documentaries on wildlife and history fascinate me. #neverstoplearning
I don't like cruelty to animals and believe we should all help save our planet and do what we can #climatechange
The best book I have read is The Belgariad - David Eddings, a superior writer. I read it whenever I need a fix of splendid literature.
Please get in touch if you would like to hear more about my work . Or, feel free to nose around my writing examples page and have a read.
Expertise I am a versatile writer with a vivid imagination
Skills creative writing
Location South Wales